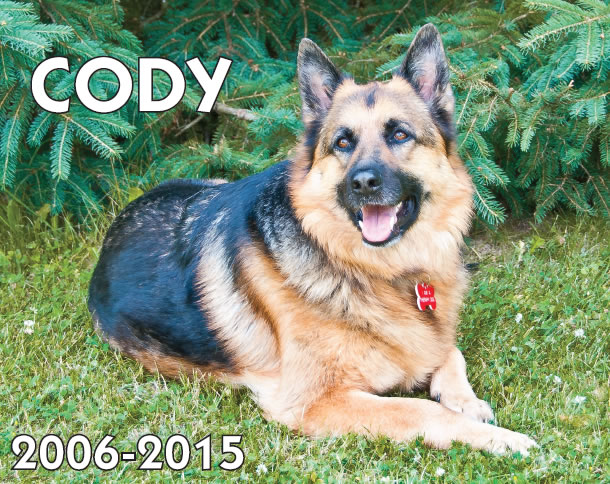 Tribute to K-9 Cody
Cody was born April 14, 2006. We brought her home from the breeder when she was 7 weeks old. Going thought her puppy stage was uneventful, she did the normal puppy things like eating, sleeping and a lot of playing. One afternoon when Cody was six months old we were all in the backyard playing and out of nowhere a military jet came over the house at a very low altitude and scared her, as the jet came back over the house she began barking at it and from that day forward to her last days she declared the backyard as a No-Fly zone and I must say she did her job well as Not One airplane ever landed in the backyard. As Cody grew she developed a great temperament and loved being around people. When she was 2 1/2 years old we decided to train her to become a Therapy Dog. She passed all requirements and became a certified "Therapy Dog" and also received the "Canine Good Citizen" award from AKC. We started making visits to hospitals, schools, VA hospitals and senior homes visiting WWII and Korean war veterans.The people loved her, she alway put a smile on their faces especially the ones that needed to smile. We was very proud of her. In 2010 she received a special award from AKC for completing 50 therapy visits in 6 months. She knew what her job was and did it very well.
As a member of two VSO's (American Legion and AMVETS), Cody would accompany me to all the meetings representing military dogs past and present. As we would arrive at the meeting hall I would take her off leash and she would go around the room greeting all the veterans, she loved hanging out with the guys and they loved it too. The AMVETS made her an honorary member as she attended all the meetings, special events, photo opts and parades, she was part of the group.
In 2012 Cody showed signs of weakness in her hind quarters. The veterinarian's diagnoses was degenerative joint disease, especially in the hips and arthritis in the spine. A few months later we decided to retire her and just give her comfort and take care of her. On Memorial Day 2013 Cody participated in her last parade.
In late December, 2014 Cody became very ill, she was put on meds and recovered early January. Two weeks later her condition took a turn for the worst. The veterinarian advised her heart rate was up and she having difficult breathing. We rushed her to the Oakland Animal Hospital in West Bloomfield. While on the examining table she had a heart attack. We both held on to her as she passed.
Cody was my companion, my best friend, she was by my side every day. We did everything together. When she wasn't doing her therapy work she was participating in many of our veteran affairs. Cody was loved by many.  We miss her so much.
R.I.P. Cody-Girl until we're together again.
Phil & Barb Weitlauf