K-9 Quinn
Fowlerville Police Department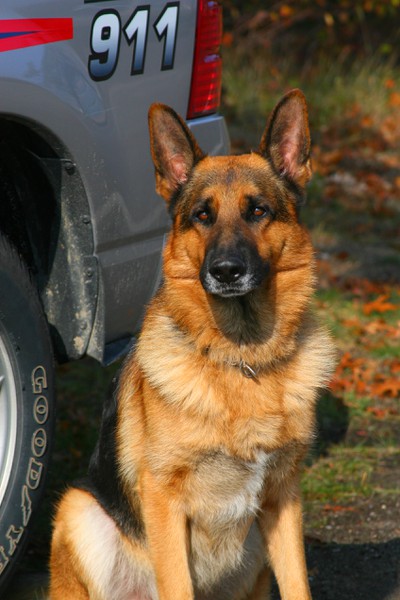 K9 Quinn was born in Germany on April 29, 2002. In October, 2003 he was imported to Rudy Drexler's school for dogs in Elkhart Indiana. After training with Officer Soli for 8 weeks he became certified in Narcotic detection, Handler protection, Tracking, Building search, Area search, and Article search. K9 Quinn and Officer Soli were assigned to the Fowlerville Public Schools as liaison Officers. In the first six months that K9 Quinn worked at the schools, there was a 92 percent decrease in drug related reports. It only took a few arrests to show the students that they couldn't fool Quinn's nose. Over the years K9 Quinn had several narcotic finds, caught several fleeing felons and assisted every Police Department in Livingston County. K9 Quinn was mostly known for his unbelievable temperament. K9 Quinn was loved and petted by several hundred children in the Fowlerville community. There were times when 30 kindergarten children would all be petting him at the same time. K9 Quinn helped bridge the gap between some of the children, the community and the Police Department. K9 Quinn was forced to retire after 8 years of service on June 8, 2012. He had developed a nerve disorder in his back that caused him to be unsteady on his rear legs. Quinn lived the next two years with the Soli family on their farm enjoying his retirement until he was no longer able to walk on his own. It was time, K9 Quinn was sent to heaven on September 02, 2014. He will be missed by many.

He was truly a remarkable K-9 and absolutely Officer Soli's best friend and partner he's ever known.
K9 Quinn may no longer walk beside Officer Soli, but will forever live in his heart.