K9 – Gryphon 
German Shepherd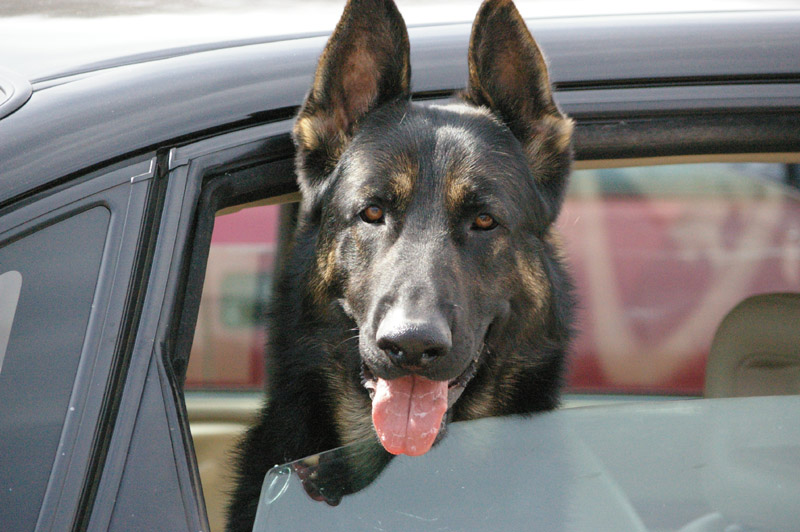 On December 18, 2006, our sweet boy, Gryphon, aka Mr. Gryphon was born. His forever family could not be more excited. He was coming home to his family- Michael, Wanda, Nicole and Breanna, and a sweet Bulldog named Ginger.
Ginger's duty was to show him the rope's about delivery men, you will bark at them, she even chased a few and Gryphon was a quick learner and did the same.
Gryphon grew into the sweetest and gentlest 120 lb. German Shepherd you have ever met. He was a great protector of his family and sat very regal on his hill to watch over them. And… he loved to play ball and walk around the house with a pink pig in his mouth, his very favorite thing to fall asleep with.
Our boy loved learning new things, and was certified by the Continental Kennel Club (CKC), American Kennel Club (AKC), and the Canine Good Citizen. He loved children and walking in parades, especially walking down Main Street in Milford on Memorial Day with his flag bandana to walk with and honor Michigan War Dog Memorial, and Mega March for the Michigan Humane Society.
Gryphon always had the ability to be one step ahead of you in training, waiting for the next challenge, if there was no challenge he would just chill. He was on alert at all times yet gentle enough to be with children. He was always willing to be the leader or the follower in the pack. Search and Rescue was the perfect training for him.
He started his search and rescue program when he was three, and took to whatever they asked him to do. When we would say, "Search Gryphon" and he would do it with passion. Sadly, his trainer was unable to finish the course due to health issues.
Some of the things he learned, he did pass on to his companion, Gabby. Like bark at delivery people, walk in parade, Memorial Day and Mega March and to play ball.
Sadly, we lost our sweet boy on January 22, 2016 due to a tumor on his spleen that weaken his heart.
Leaving behind hug paw prints to fill, the gentle Gryphon left us missing a part of our hearts the day we said goodbye, until we meet again big boy, you were one in a million.
He is missed every single day.
I would like to finish with this poem:
G is for the greatness and grander that he possessed
R is for the regal statue he carried
Y is for you and the lovingly bond that you had
P is for the power he possessed, the pleasure he gave, most of all the people that he touched!
H is for honestly truthful, in reading people, happily heroic for his family, hungry for his daily treats, hospitable to those welcome into his home, herding to keep his pack together. But the most important is a Hero in everyone heart.
O is for GRYPHON the one and only Gryphon, from strength to the silly things he would do to make us laugh. The ornate way he gave his love and the one piece of our hearts that has gone with Gryphon.
N is never letting our memories go, knowing he is pain free. And all the neat things GRYPHON taught us through his years. Gone too soon but loved so much. And which shows us what an amazing dog he had been, He loved his time here, and you guys could not have been better to your boy!!
Gryphon we love you and always will…
~Mona Prime wrote this poem for the family~