MWD Shaman-H055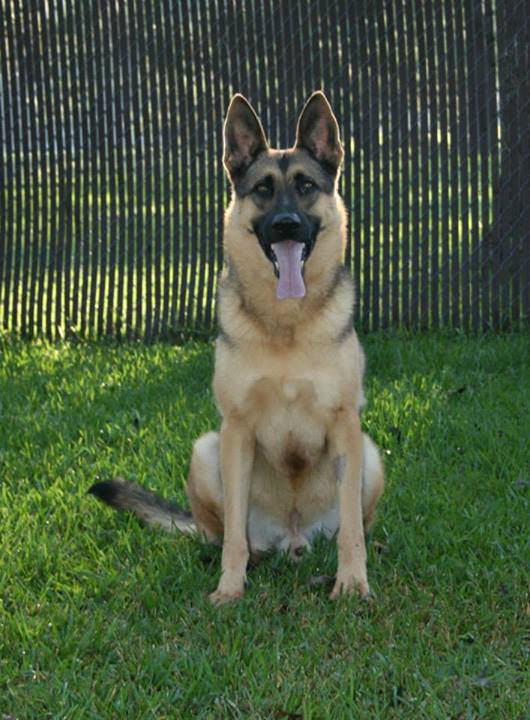 MWD Shaman-H055, PNDD was a German Shepherd born in Europe in February 2000. In 2002 Shaman was trained in Shutzhund, a procedure in tracking, obedience and aggression control in Germany. The next year Shaman was transferred to Lackland AFB in Texas for further training. Shaman was assigned to his home base at Ft. Stewart, Ga in 2004. Six months later was certified as a PNDD (Patrol Narcotic Detection Dog) with his handler Sgt. Asher. During the next two years he worked along side Sgt. Asher in security duty at Ft. Stewart and the surrounding area. Shaman made over 200 narcotic detection finds in this time period. In 2006 Sgt. Asher competed in the FORCOM Working Dog Trials. Shaman always scored high and was "Top Dog" in narcotic detection. In mid-2006 Asher and Shaman were deployed to Iraq at one of Iraq's high profile prisons. While in Iraq they were on call to assist American and British Special Operations Forces in Southern Iraq. A side note:
Shaman was fed steak for dinner every Monday while there. In mid-2007 Sgt. Asher and MWD Shaman returned to their home base once again to Ft. Stewart Ga.
Shaman began to experience back and hip issues in 2009. In early 2010 Shaman was diagnosed with a spinal cord disease that caused weakness in his hind quarters. In the summer of 2010 the Veterinary Corp retired Shaman and at this time he was adopted by Sgt. Asher and his family.
From the words of Shaman's family: Shaman was a great addition to our family. We had two other dogs and a cat when we brought Shaman home. He was not a cat lover but got along well with the dogs. He was loved and spoiled from the day he came home. He would lay on the couch and didn't care if you were already there, he thought he could just lay in your lap. He was a bed hog and didn't care if he pushed you off the bed. Shaman was loved by everybody and he loved everybody back. We brought Shaman back to Howell, Mi with us when SSgt. Asher retired from the US Army. He had a large backyard to run and play in with our other two dogs.However, overtime the disease began to take over and Shaman's quality of life diminished. It was time, and on July 21, 2014 Shaman passed away.
He may be gone but he will always be loved and live forever in your heart and never forgotten.