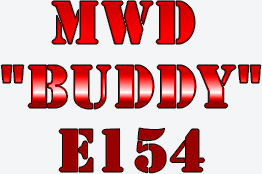 - I flew to Lackland AFB to adopt him on April 15, 2010 and flew him home with me. My son is a graduate of the Air Force Academy '08 and his roomates father is a pilot with Continental Airlines. He helped make sure that all airports we flew into knew that they had a veteran onboard and to treat him with respect. I live in Lambertville, MI.

- he was diagnosed with 2 cancerous masses in early December of this year. One was in his Pancreous and the other was around his heart causing him breathing difficulties

- I had to make the decision to end his suffering on Dec. 29th, 2012.

It took about 4 months to bring him around to get the hint he did not have to work any longer. When I first brought him home, I remember that he sat down in the garage in front of a shelf unit and would not budge to come indoors. What had happened was that my son had left some ammunition on the shelf and Buddy was still on duty, trying to alert me to his "find".

I have 2 other dogs when he entered our home and it was these 2 who taught him how to play and just be a dog. Buddy's favorite way to play was to roll onto his back with all 4's up in the air and wait until I or anyone else would come and rough house with him a bit.

With the progression of time, Buddy's back end and hips became more and more an issue for him. At the end he could stand only for short amounts of time and would fall without warning. The cold weather played havoc on his breathing issues.

Buddy was the dog that some dog people refer to as my "heart" dog. He captured my heart and he had eyes that seemed to peer into my soul and touch me in the deepest parts of my heart. He was my constant guardian and protector, ever on duty and always at my side. At the end when he would collapse and not be able to get up, I would have to walk out of sight as he struggled to right himself because he could not see me and he just HAD to be with me. I have lost many pets over the years but the bond and the loyalty that he showed me, is something I have never experienced before. He has left an enormous hole in my heart that constantly aches to see him, hug him and be at his side. I only pray that I was worthy of his devotion and the incredible  love he gave me. The thought that helped my aching heart is that he is now totally healed. No longer in pain. He can run and run to his hearts desire. But the one thing I am SURE of is that Heaven has a new angel guarding its gates and that one day we will be reunited because our time together on Earth was much to short.